From our past issue nr. 23 of Nordic Surfers Magazine.
Photos Chris Burkard & text by Michael Kew.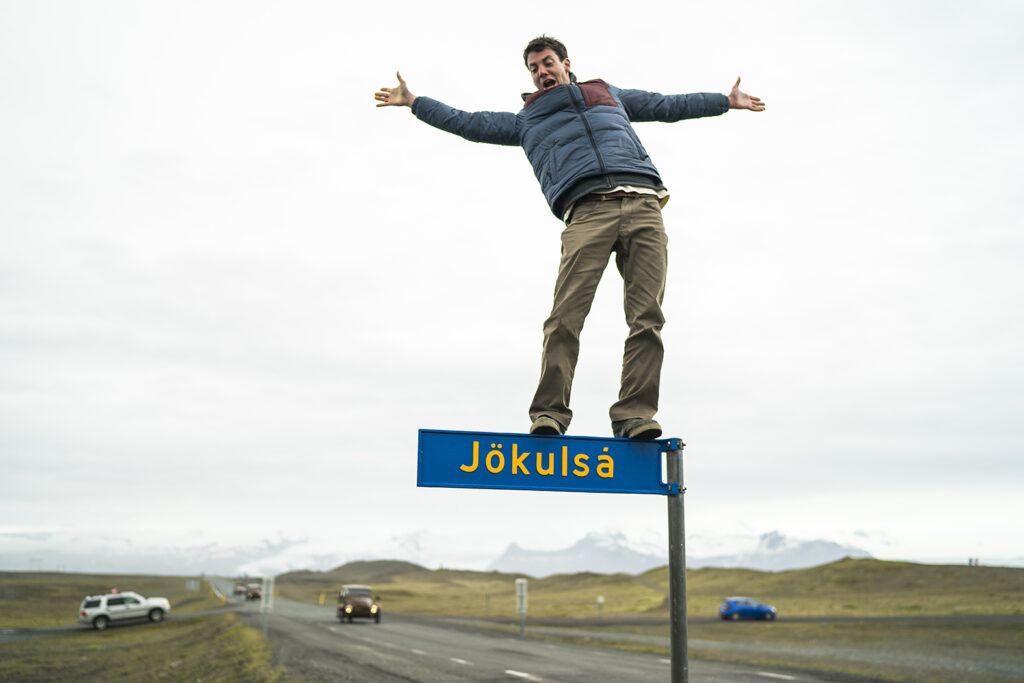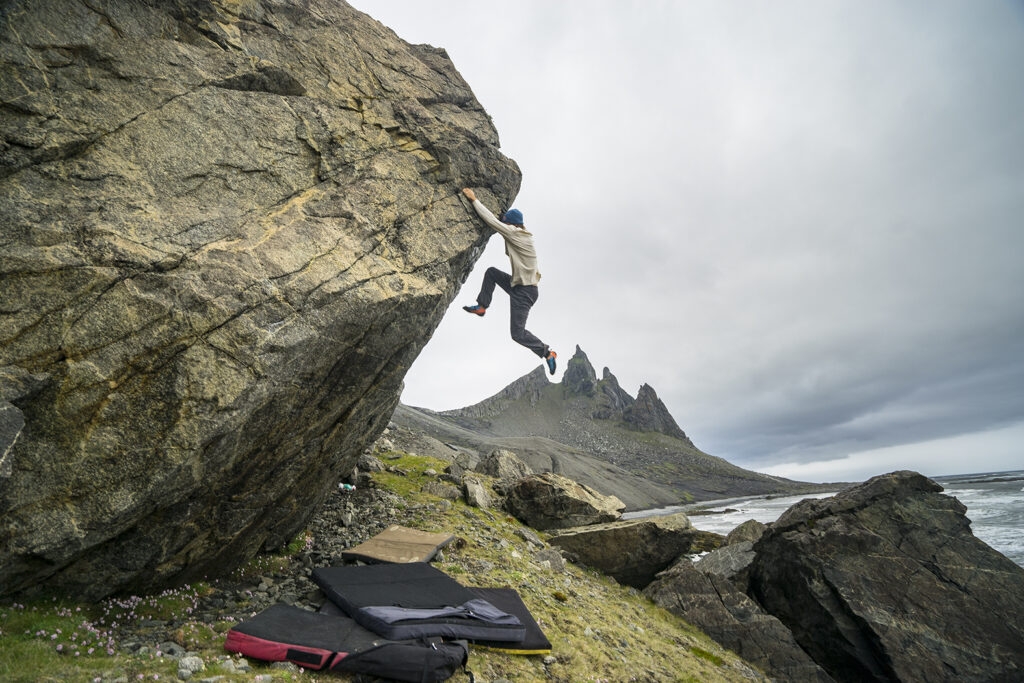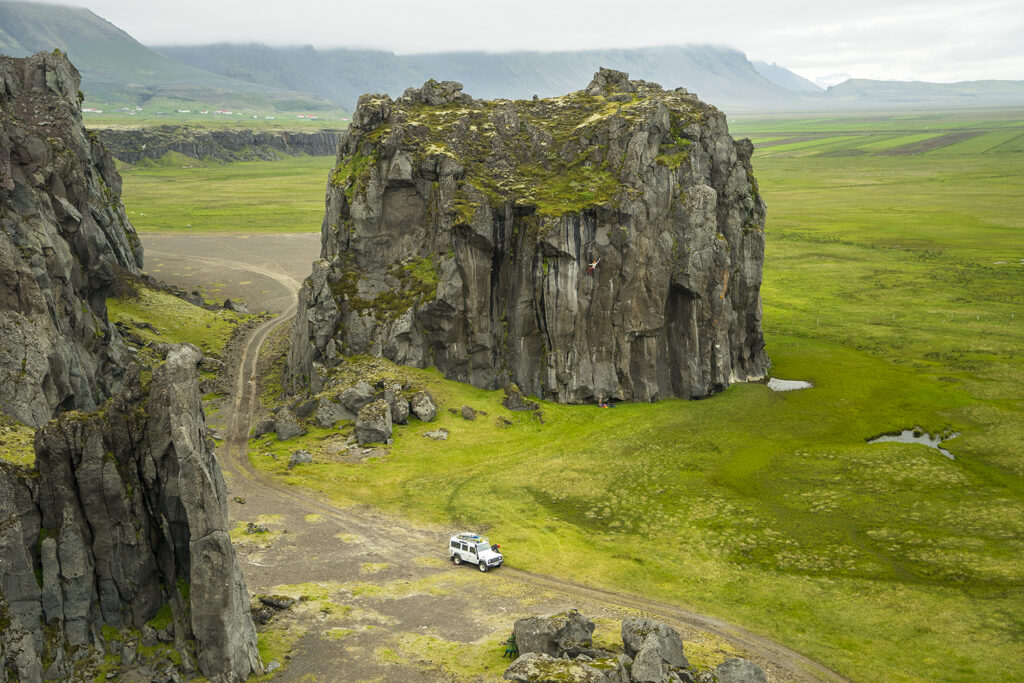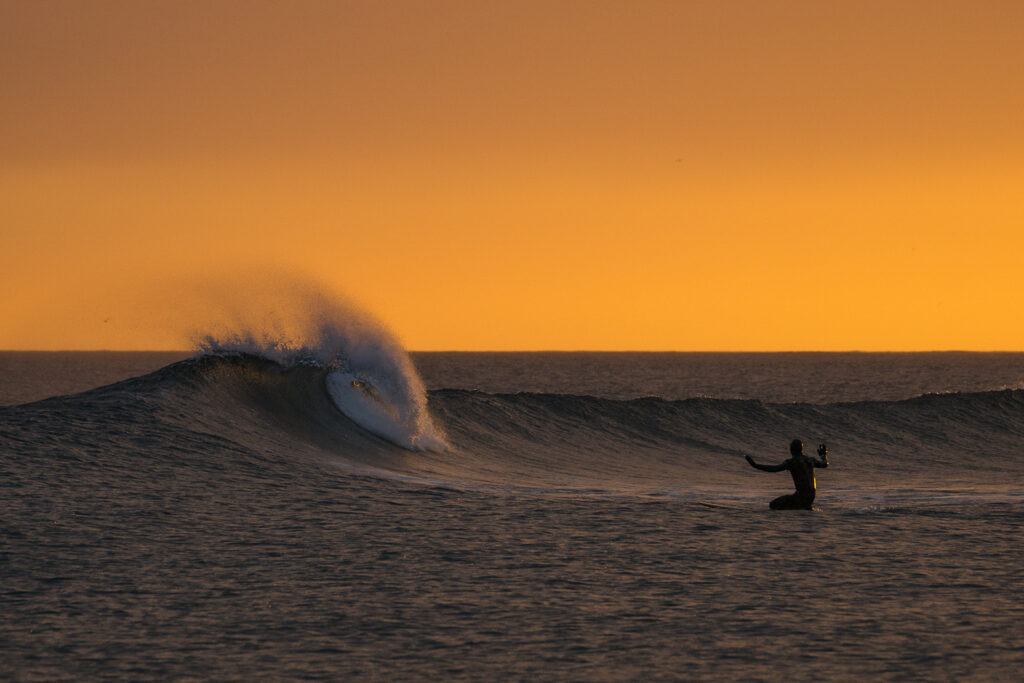 The premise: Nordic daylight.
July 2015: winter is miles behind. Summer gravity steers the drift of our American caravan, which includes two rock climbers (Chris Sharma, Paul Robinson) and two surfers (Chadd Konig, Anna Gudauskas Ehrgott).
For both sports, Iceland is flawed, especially midsummer. The North Atlantic is never sure of itself. Clouds balloon and spit. Wind scrubs the waves, rain greases the roads. But, photographically, Iceland is perfect: rainbowed waterfalls, steaming lava fields, bergs melting into black-sand beaches.
In the matrix, we creep in the long shadows of delirium, dipping our neoprened hands, flexing our chalked fingertips.
Usually with more snow than shine, lensman Chris Burkard has visited Iceland a whopping 19 times, usually pointing his rented Land Rover north from Keflavík International, in winter, in volcanic freeze, in doomsday whiteouts.
"There's no such thing as bad weather," he once told me. "Just soft people and poor clothing."
This time, after a restorative post-flight surf near the airport, Burkard's cerebral compass swung us south-by-southeast. Ring Road to Porlakshofn, a valued port town, home of Iceland's premier south-coast pointbreak, where we tickled waves, wee and baby-soft, at 3 a.m.
Ehrgott's longboard was a blessing.
"Mornings came too early," she said, "but those small-wave days were illuminated by the golden sun, hovering on the horizon. Everything seemed more epic backed by the volcanic peaks, which refuged the retreated snow in the 'warm' months."
Iceland broods at 65°N latitude, between Greenland and Norway, north of Shetland, south of Jan Mayen. It's an active quadrant.
Sunny? Sometimes.
"It didn't feel like the daylight ever came or went," Ehrgott said. "The depths of our minds expanded and took the place of external experience."
Gravity sucked us in.
And driving—lots.
Past Porlakshofn was the enchanted village of Vík í Mýrdal ("Bay of the Marshy Valley," population 300), Iceland's southernmost and rainiest outpost, home to hard-hitting beachbreaks and the island's most active swell window. Not a bad place to hang for a while. Nearby, a river fed ice to a gravel rivermouth sandbar, offspring of eons of volcanic spew onto the youngest land on Earth (Iceland is constantly evolving). Only thing missing was a wavetrain of surfable size—unless you were one of Iceland's elves, gnomes, or fairies.
"It felt like the edge of the earth," Sharma said.
Vik actually is the edge of the earth until, if you head straight south, narrowly missing West Africa and the South Sandwich Islands, you reach Antarctica's Queen Maud Land. We didn't do that.
Weekday 11 p.m. light revealed another punchy beachbreak near a 9th-century relic of sheep paddocks and cement cube homes on a desolate fringe. From afar it looked good—the cold north wind massaging southern windswell into something pretty.
Konig felt homely in Iceland, twisting his thin vegan frame into thick Matuse wetsuits to carve and jive on his alaia or canary-yellow 6'8" single-fin in low dawn hues of citrus. In the 10°C sea, he also bodysurfed.
Nobody bodysurfs in Iceland.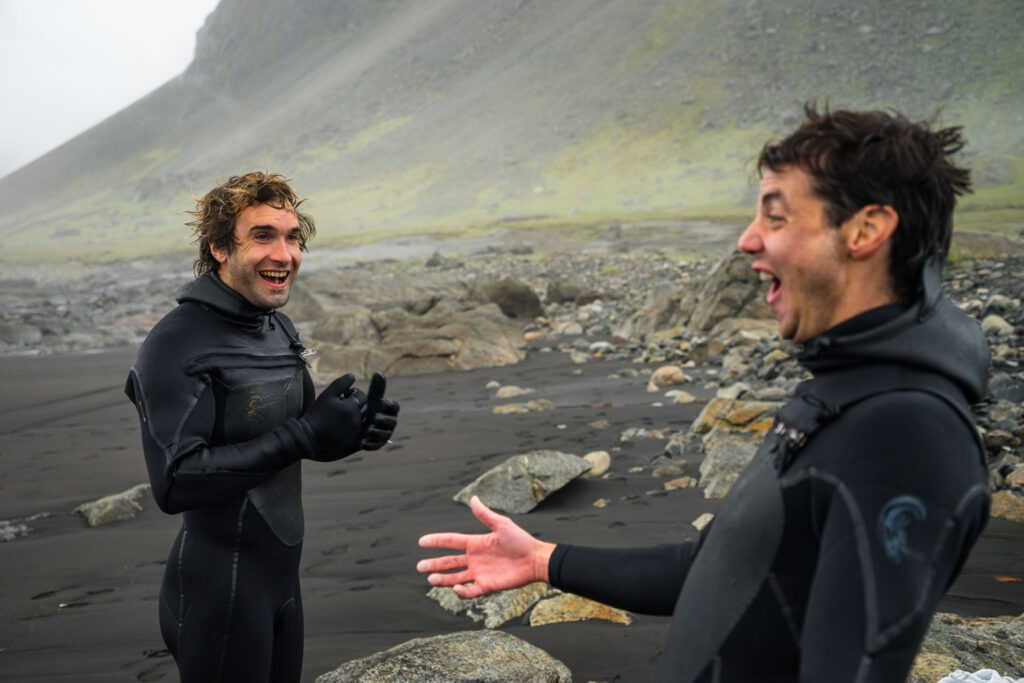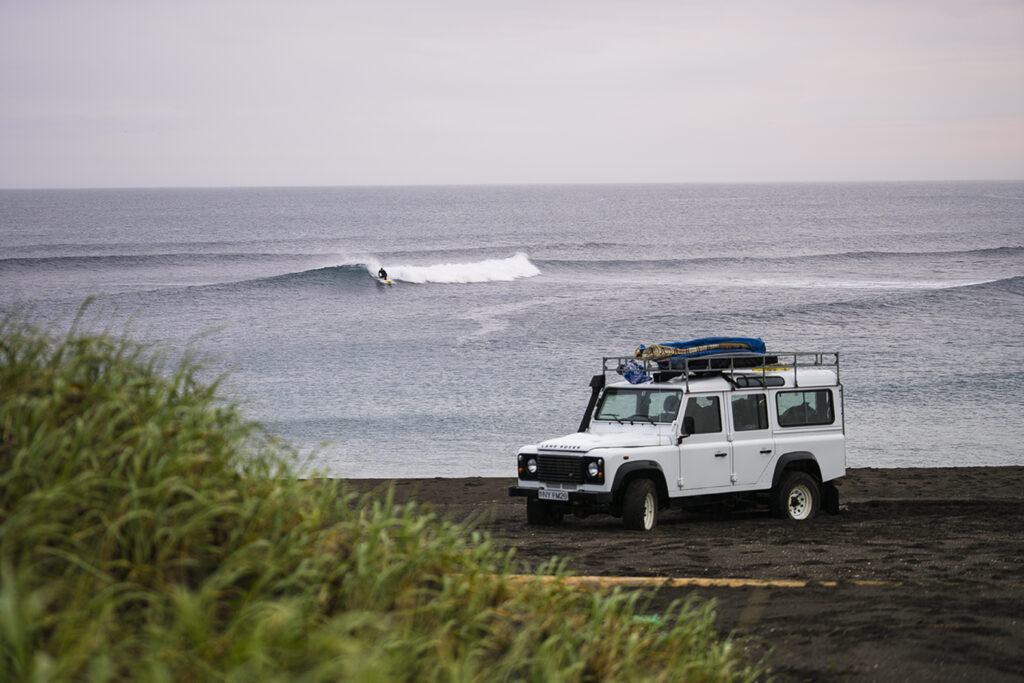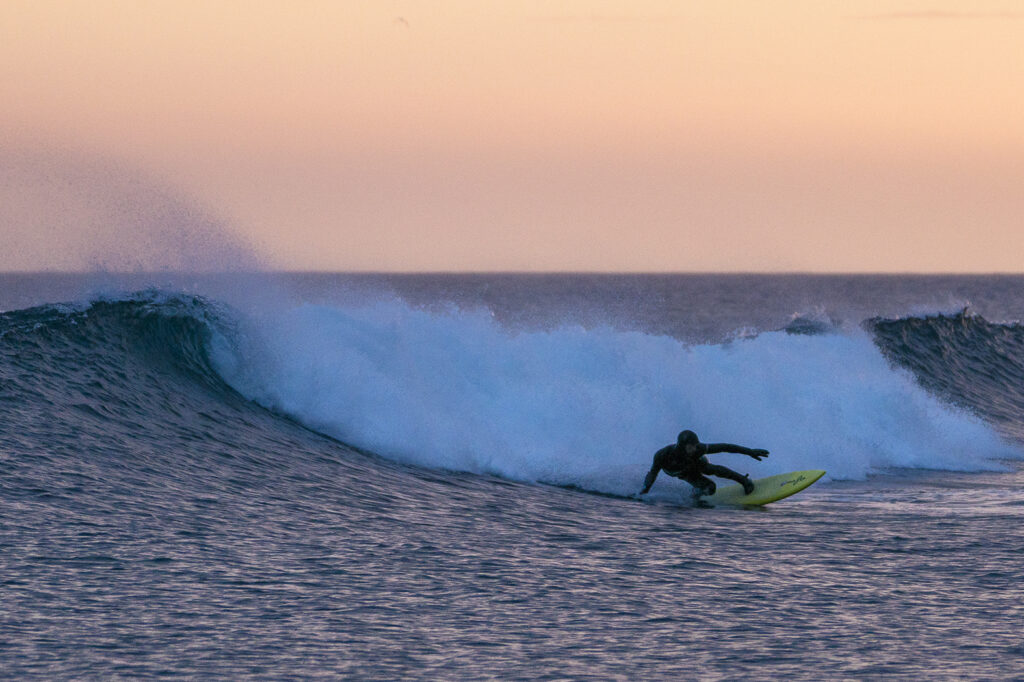 "Summer there is incredible because you can just keep going and going and going," Konig said. "It never gets dark, which makes the potential for seeing the country so infinite. You enter this state of 'twilight zone'—delirium and excitement. It doesn't feel like Earth. You're on another planet.
"The landscape is deafening. Often, my mind was so utterly clear—no thoughts whatsoever, because the landscapes were so consuming. They just take you. It's rare that a place grips you so strongly that you can't even make thoughts in your mind."
Rock climbing and surfing: different yet same. Pursuits of raw canvas. Mercy within nature.
In a word: synergy.
"Surfing, like climbing, is hard to fit it into the box of a conventional sport," Sharma said. "For me, it's a lifestyle, and it was nice to connect with people from different walks of life who share that feeling. Chadd and Anna knew very little about climbing, but what struck me was how easy they were to relate to. One of the cool things about getting to spend time with them was realizing how similar our lifestyles and outlooks on life and our respective sports are."
Bouldering is nose-riding. Paddling is gripping. Cold, gray waves are moving rocks. Rocks are naked reefs. In Iceland, new rocks and reefs are born constantly. The island is an infant.
Midnight-sun pointbreak rights parlay to 4 a.m. cliff ascents, namely on nameless roadside basalt and other vertical meters.
All said, Iceland will not be hosting an IFSC World Championship in 2016.
"For rock climbing, I wouldn't say the area was bad," Robinson said. "I think it was more the bad weather that plagued our trip and made it hard to stay motivated."
Iceland is not a chief rock-climbing destination as the rock tends to be crumbly and insecure. Earth's most basic kind of rock is igneous (often called "volcanic"), rock that is formed from cooled magma beneath the earth's surface. As Iceland is young geologically and barely eroded, its volcanic rock dominates.
"Icelandic climbing is pretty unique," Robinson said. "It is very much undeveloped, and I am sure there is room for so much more potential. It was cool to see an area in such an early stage in its development."
"And to step off the beaten track of the usual climbing circuit and do something different," Sharma added.
One good spot was Skaftafell, in south Iceland's Vatnajokull National Park, where the average July temperature is 10–13°C. Warm days can reach 20–25°C. (For us, this did not occur.)
With both cliffs and boulders, there are more than 130 bolted runs in Skaftafell, ranging in difficulty from 5.10 through all levels of 5.13. Inject a high number of technical bouldering routes, and it's clear to the casual non-climber why nylon camping tents are pitched here for the whole of Iceland's short summers.
"We found some sweet boulders," Sharma said "I'd never climbed on rock quite like that before, so I savored the unique experience, even though I did freeze my ass off."
Towering over grassy meadows, Hnappavellir is Iceland's largest, most popular climbing area, a summertime mecca for climbers who are rewarded with high-quality rock and sublime views.
"Huge mountains ending on deserted black-sand beaches and beautiful granite boulders perched just above raging surf without a person in sight," Sharma said. "It was all very dreamy until we got out of the car and were knocked over by an 85-mph gust of wind."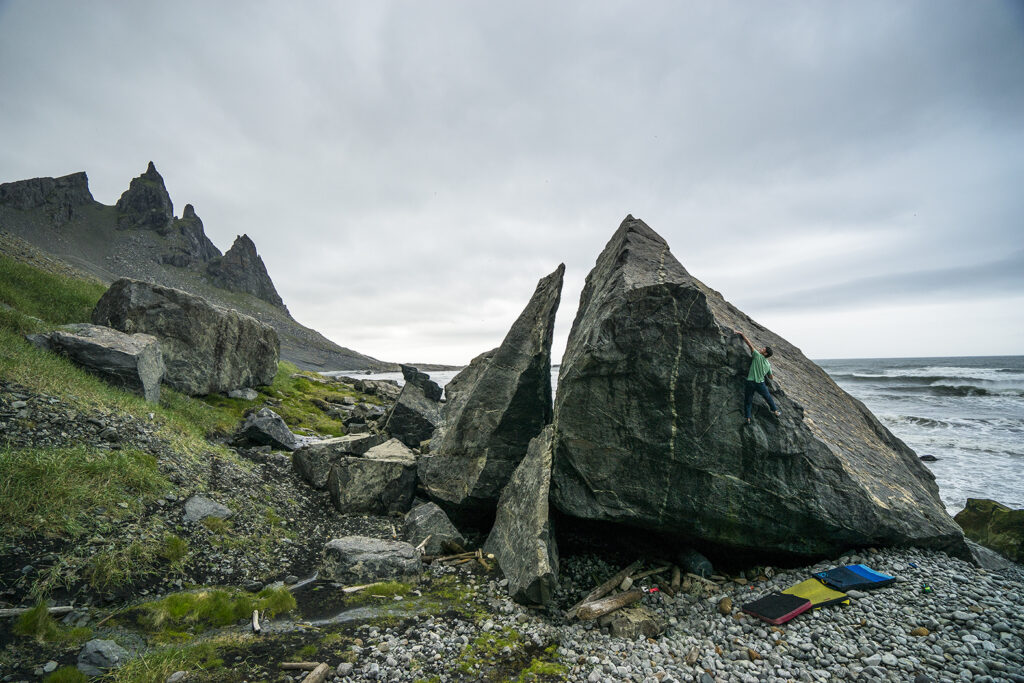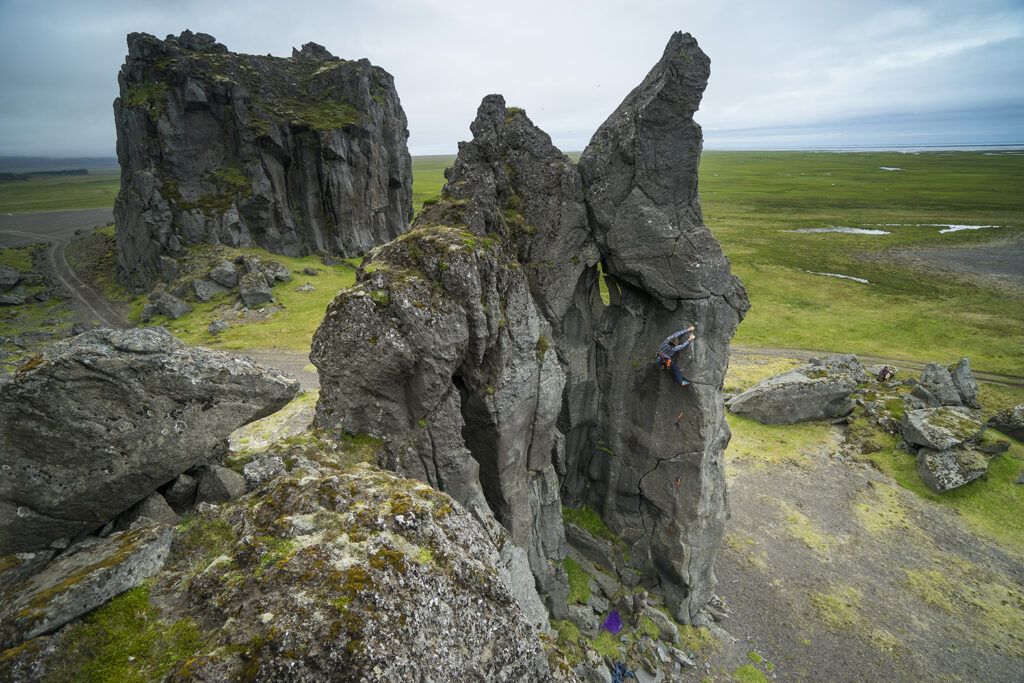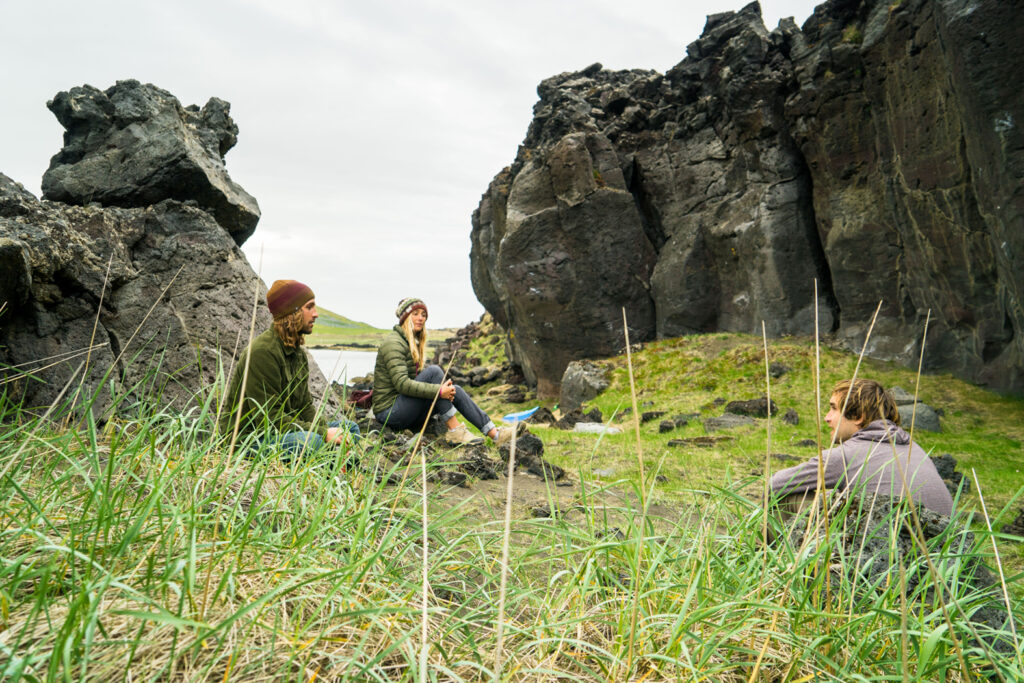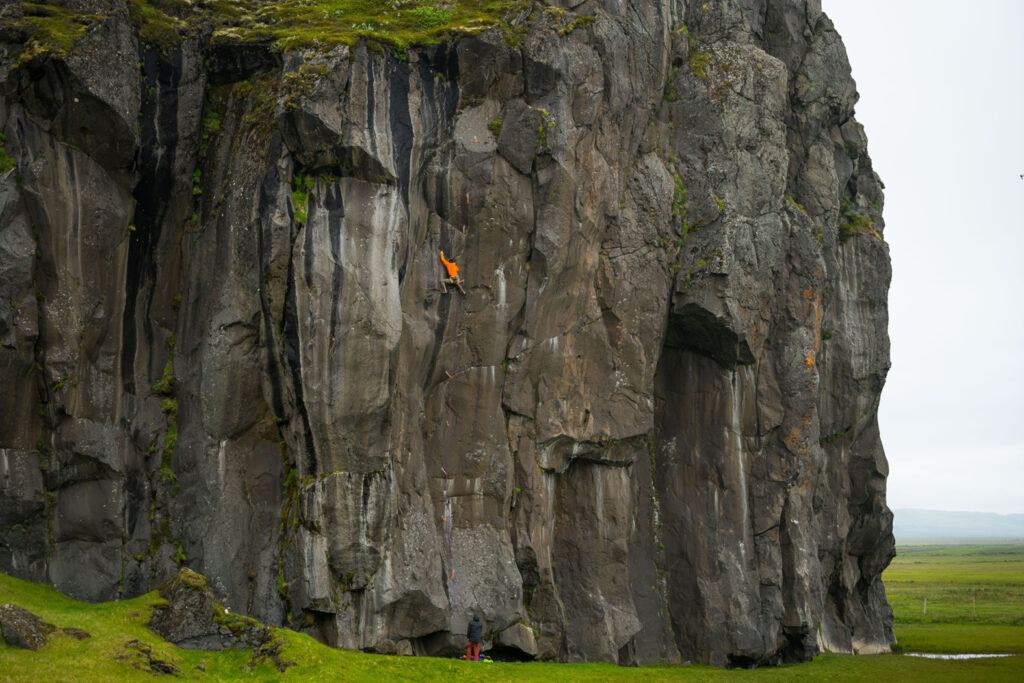 The men also summited in Höfn, where the crew narrowly missed attending the town's yearly Humarhátíð (lobster festival).
Fresh seafood aside, Robinson said, "there are hidden treasures to be found around every corner. Huge waterfalls, secret pointbreaks, boulders to climb that have never been scaled before; Iceland offers some of the most incredible scenery and landscape with a plethora of things. The pristine nature of the island and its mystical setting was the perfect backdrop to some pretty awesome outdoor experiences. Basically a surreal, amazing land."
Surfing is climbing; climbing is surfing.
Nordic bliss? When daylight never sleeps.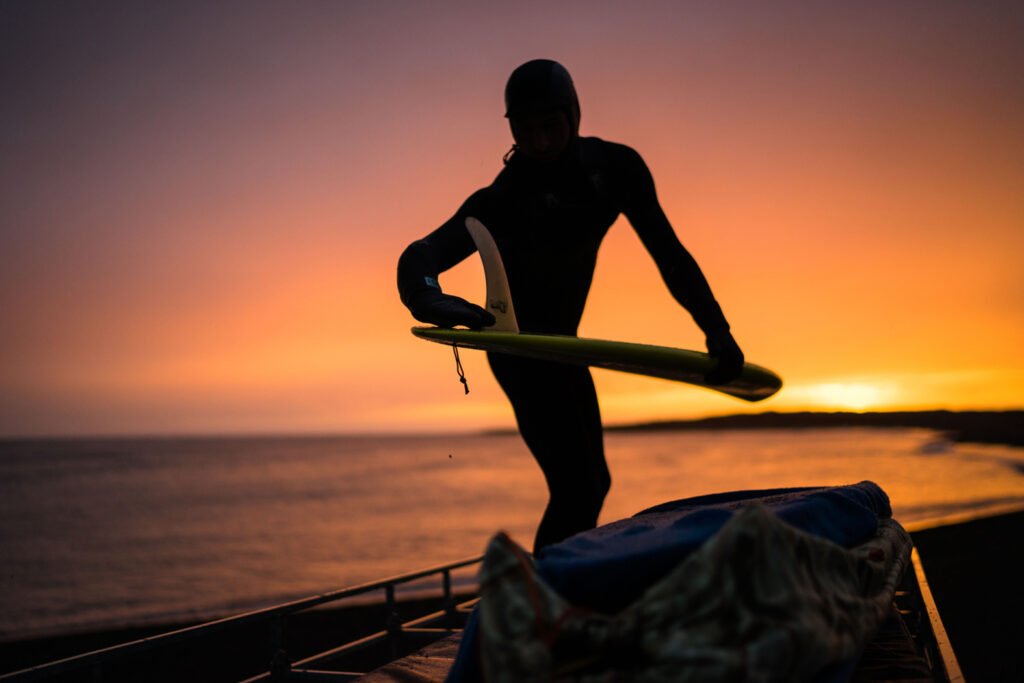 From NORDIC SURFERS MAGAZINE nr.23
All Photos by Chris Burkard
Text Michael Kew
With Chris Sharma , Paul Robinson , Chadd Konig , Anna Gudauskas Ehrgott